Reitz Dental - Edgerton Dental Office
This page provides you with practical information about our practice. It includes descriptions of our office location, including a map and directions, hours, appointment scheduling, insurance acceptance and billing policies.
Reitz and Gregerson Dental
1007 N Main Street
Edgerton, WI 53534
608-884-3358
email: [email protected]
Office Hours
| | |
| --- | --- |
| Monday: | 07:00 AM - 06:00 PM |
| Tuesday: | 07:00 AM - 08:00 PM |
| Wednesday: | 07:00 AM - 06:00 PM |
| Thursday: | 07:00 AM - 06:00 PM |
| Friday: | 07:00 AM - 6:00 PM |
| Saturday: | Closed |
| Sunday: | Closed |
Click here for door to door driving directions
Appointments
Please call our office at (608)884-3358 to schedule an appointment. If for any reason you cannot keep a scheduled appointment, please call us as soon as possible.

Insurance and Billing
Our office accepts nearly every insurance and will file your claims electronically so your claims can be processed quickly and with ease. We are a participating provider with Delta Dental and WEA. Our staff is familiar with most of the major plans and are trained to assist you in maximizing the benefits to which you are entitled. Please be sure to bring a copy of your insurance card with you to your first appointment or at any time that your insurance changes so that your claims can be processed correctly and efficiently.

Payment Options
To meet your financial needs, our administrative staff are available to discuss financial arrangements with you. Medical and dental insurance can be confusing. Most insurance plans only pay a portion for your dental visit. The friendly staff at Reitz Dental are happy to answer your questions and help you get the most from insurance. We provide a 10% adjustment discount for procedures paid in full on the day of service. For your convenience, we accept MasterCard, Visa, American Express and the Discover Card.
Technology
At our facility you will find state-of-the-art dental technology that allows us to offer our patients services that are faster, better and less intrusive than most people might imagine. The latest computer technology is maximized for treatment as well as patient comfort.
Intra-oral cameras: The intra-oral camera is a small wand with a miniature video camera that is inserted into the patient's mouth, where it transmits a signal to a television monitor next to the dental chair. This miniaturized camera allows patients to view the inside of their own mouths live. An intra-oral camera allows us to view clear, precise images of patient's mouths, teeth and gums, in order for us to accurately make a diagnosis. The dentist can use the image to explain a condition or procedure to the patient or to track a particular condition over time.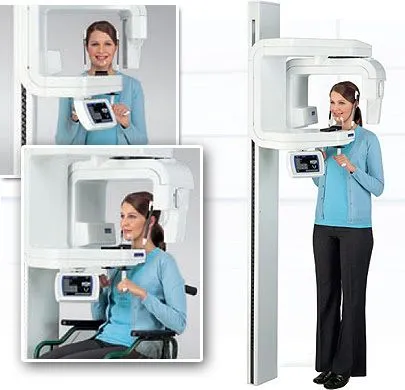 Panoramic Technology: For comprehensive diagnosis and less radiation, the panoramic machine takes an x-ray of your facial aspects, including the TMJ joints and sinus area, in one picture. A panoramic x-ray film is a diagnostic image that shows all of the jawbones and teeth and is typically utilized in oral surgery such as wisdom tooth extractions, implant surgeries and jaw fractures as well as in orthodontics.
CEREC: CEREC uses advanced dental technology to produce natural-looking dental crowns in one visit. CEREC consists of a computerized system that designs your dental restoration right on the spot. First, the dentist will take a picture of the tooth or teeth that have been prepared for dental treatment. Then, a 3-D model of your tooth is created right on the screen. Dr. Reitz will then use the CEREC software to design your dental crown. The final creation is sent to CEREC's milling unit, which trims a ceramic block (that will match your tooth color) into the right shape. Each step is done in a short time, producing a crown while you relax in the dental chair. This used to take several weeks and now it takes just one dental visit that lasts about an hour.
Cephalometric X-ray: When going in for your orthodontic records appointment a cephalometric x-ray will be taken. This is used to take a snapshot of the teeth and bite from a side view of the head. The exposure takes under 10 seconds. Once the x-ray is developed, Dr. Reitz will calculate how the patients jaw and surrounding bone will be affected by orthodontic treatment, along with providing a look into the growth pattern of the jaw and teeth.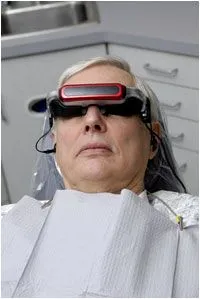 Diode Soft-Tissue Laser: A diode laser can be used to correct a wide variety of dental problems such as canker sores, removal of lesions, gum disease and for gum reshaping. Laser dentistry is more comfortable because the laser seals and sterilizes tissue as it goes, there's minimal bleeding and no need for stitches. Procedure and recovery times are fast, and most patients resume their normal activities quickly following laser surgery. Many patients report that they feel virtually no discomfort during or after with our soft tissue laser.
Virtual Video Glasses: The future has arrived. Imagine having your own private cinema.. .in the dental chair! These glasses contain a pair of LCD screens that give the effect of watching a flat screen TV. For dental procedures, you can come prepared to watch a movie that can instantly be downloaded from Netflix or you can watch your favorite TV shows. This can even be worn when Nitrous Oxide is being utilized to ease your discomfort or fears. You won't want the procedure to end until the show is done!
Music: Each room is designed to access any genre of music you desire. Music helps to relax people and it works as "white noise" to cover the sounds of the dental instruments.